Giro – Vocals
Born in Queens and raised on Long Island N.Y., Giro started at a young age singing the hit songs of the day.
Listening to groups like the Young Rascals, Vanilla Fudge and the Vagrants, he knew rock was here to stay and would be a part of it!
Influenced by legends Elvis, Bobby Darin and Dion, Giro had the ambition to rock the music world.
After writing and recording the anthem " Rock n Roll High" with Warner Records support, Giro went on to perform in all the top east coast music venues with his well known rock group Ikabar Krane.
These include the O.B.I. circuit, Hullabaloo Chain, Soap Factory in New Jersey as well as sold out original music shows at Adventureland and My Fathers Place.
Giro is also featured on the WNBC Hometown Album singing " How To Treat a Lady " and was favorably reviewed by Wayne Robbins at Newsday as a "Top Pop Crooner" and is a prolific songwriter.
He currently still performs as the original gutsy frontman for Long Islands's Ikabar Krane and is back at full throttle while doubling on piano and guitar.
He hopes to see you all soon!
K. Darling – Vocals
A native of Long Island New York, K. Darling was inspired by early rock n roll artists like the Shirelle's, The Ronettes and The Shangrilas and started her career as a lead vocalist in 60's styled girl groups.
K. was produced at that time by Ron Dante and Buddah Records and was subsequently signed by Avco Embassy Records.  K. released " Heaven and Hell" on that label written by Vanda and Young of  AC/DC fame, and authors of the hit song "Friday on my Mind".
Lending her voice to Bo Diddley and Ben E. King for back up singing is another aspect of her early career. She then became the female front person of the rock band "Flesh", and enjoyed success playing local clubs.
After coming to the attention of Chappel Music in N.Y.City  K. Darling worked on early demo's for Hall and Oates with noted producer Tommy Mottola at the helm, and also became affiliated with Joe Kipness producer of Broadway Theater, who further encouraged her musical career while performing at his iconic  52nd St. Festival in N.Y.City regularly.
K. Darling is known for her passion for rock music and also plays keyboards, saxophone and guitar. As an experienced performer in the Long Island music scene K. continues to hone her stage persona, ultimately releasing her own EP, "One Step Ahead", on Kadar Records in 2017.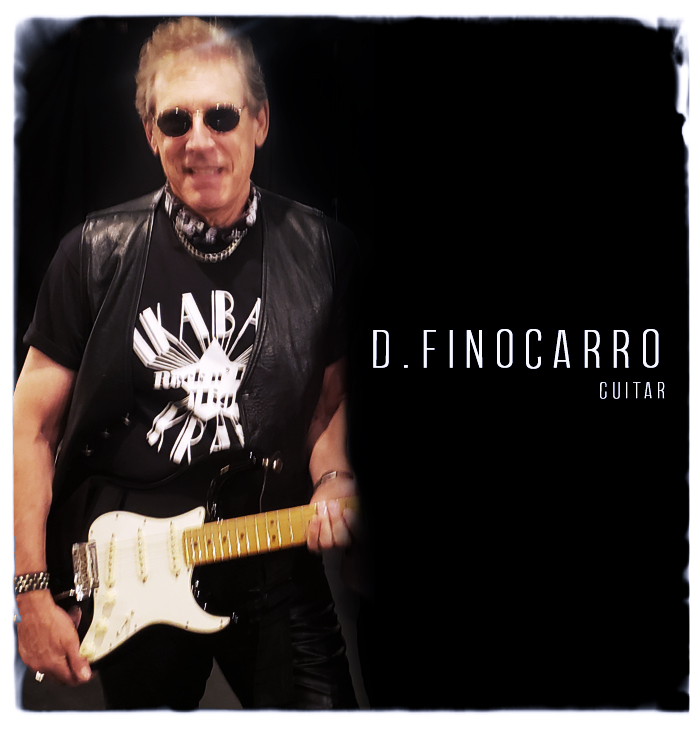 D Finocarro – Guitar
Long Island New York's D. Finocarro enjoyed success with boyhood band " The New Breed", a
precociously polished teen band known for it's professionalism.
He also showcased Gretch Guitars at Expos in N.Y. City and shared well known music venue Colonie Hill, with international stars Tom Jones, Englebert Humperdinck and Paul Anka. "D" is a veteran club and recording performer utilizing famous Stratocaster and Les Paul guitars with a flair for song writing and arrangements.
After a band audition, D. Finocarro and K. Darling realized they shared a passion for rock music and released " Fire In My Heart " on independent label Kadar Records. With guitar tracks noted for their sonic qualities and a soaring solo, this record was acknowledged by Billboard Magazine as a Pick Hit, and it highlights the creative fusion of K and D's songwriting talents.
Credited as songwriter and guitarist on the EP "One Step Ahead" by K. Darling released in 2017, he plays a rock cover of " Tell Me" by Mick Jagger and the Rolling Stones with creative authority and conviction.
Bob Luv – Bass Guitar
Born in Brooklyn and raised on Long Island, N.Y., Bobby started his first musical associations with
Ikabar Krane's vocalist Giro, and at an early age they began to build their reputations playing the local club circuit.
As singer and bassist they began a creative collaboration that still continues today.
Bobby's rock style, accentuated by his signature headband, is notable in any show.
Also, well known for his business acumen, Bob Luv has come to know many music industry influencers.
These include Kelly West from Motown Records and Bob Pitman from MTV. He has also produced music by Ikabar Krane for Millenium and Warner Bros. record companies and shared studio time with the Kinks as well.
Bobby has also been on the stage with Scott Muni of WNEW, Bob Buckman of WBAB Radio, and celebrity personalities Richard Belzer and Don Imus.
While currently managing Ikabar Krane's recording, live performances and media business affairs,
Bobby Luv always holds down bass guitar duties with his original vintage Fender Bass.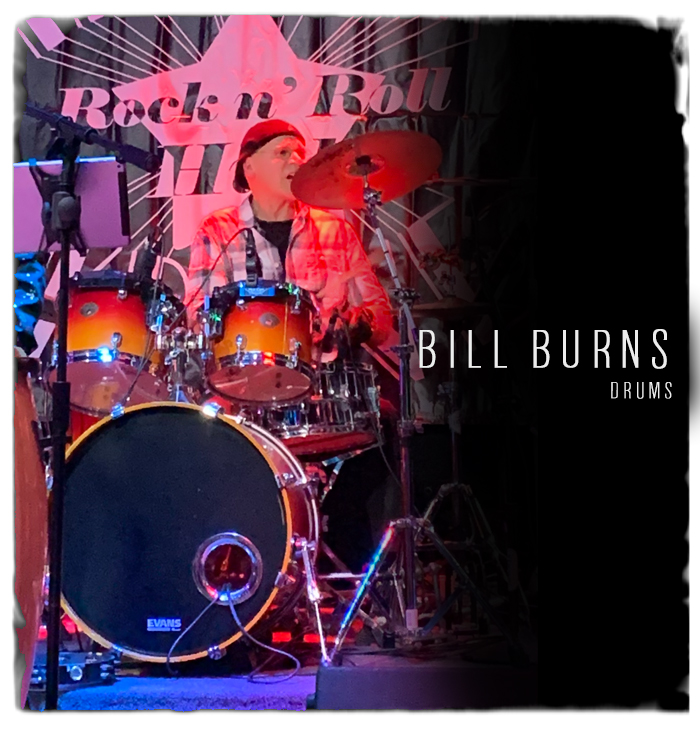 Bill Burns – Drums
Ever since the Beatles were on the Ed Sullivan Show, Bill fell in love with the drums and being on stage.
Always a consummate professional, Bill has played in many large venues including
Westbury Music Fair, Hard Rock Café, Foxwoods, and The Paramount in Huntington, N.Y.
He has also performed in Nashville with the touring Joe Bayer Group and is credited on their album releases and noted for his "rock steady" drum style and clear voiced vocal performances.
Bill has shared the stage with national bands like The Charlie Daniels Band, Quit Riot, J. Geils and Gary US Bonds to name a few.
Billy B. has currently reunited with former band mates K. Darling and D. Finocarro and will add his talents to the up and coming Ikabar Krane EP and live performances.